>> Advantages of zeolite rotor equipment
① The rotor has a high concentration ratio, and the concentration ratio is as high as 20: 1, so that the original high-volume and low-concentration VOCs exhaust gas is converted into low-air-volume and high-concentration exhaust gas
② The rotor has a long service life, and there is no need to periodically replace the adsorption material;
③ The system is automatically controlled with a high degree of automation, one-button startup, simple operation, and can monitor important operating data with the man-machine interface;
④Simple operation, safe and reliable operation, the overall system adopts a modular design, has the minimum space requirements, and provides a continuous and unmanned control mode;
⑤ The natural zeolite has superior performance in adsorbing and concentrating aromatic waste gas;
⑥ Can handle exhaust gas with relatively high relative humidity;
⑦
The pressure drop generated by the adsorption of VOCs by the zeolite rotor can greatly reduce the power consumption and lower the operating cost.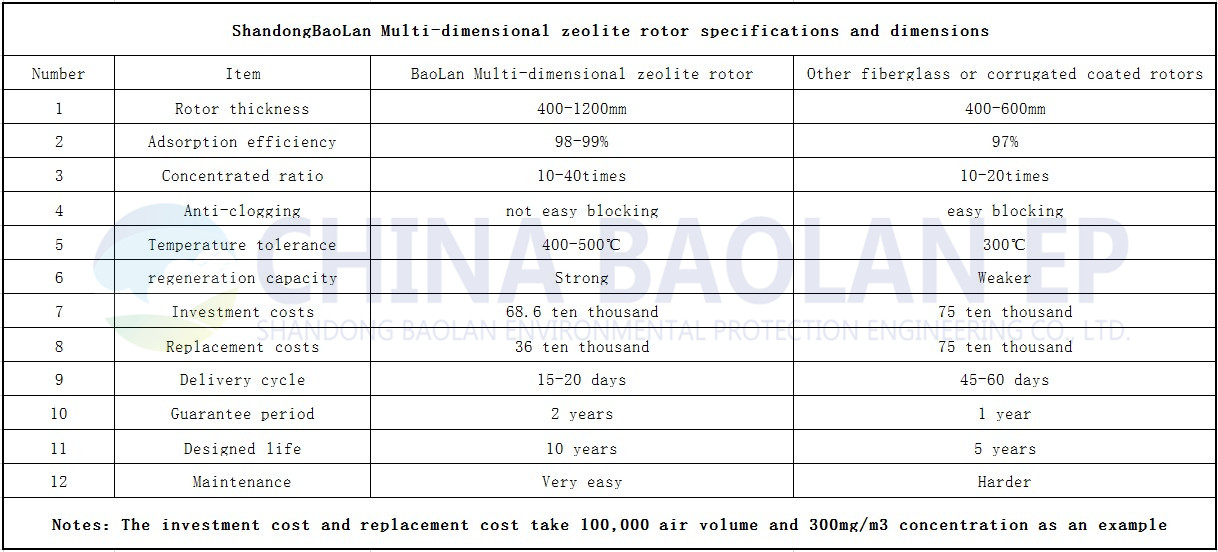 >> Advantages of Baolan adsorption material
1. The main material of honeycomb molecular sieve is natural zeolite, which is an inorganic microporous material composed of SiO2, Al2O3 and alkaline metal or alkaline earth metal;
2, with uniform micropores, the pore size is equivalent to the general molecular size, the internal pore volume accounts for 40-50% of the total volume, and the specific surface area of ??300-1000 m2 / g;
3. Due to the uniform pore size distribution, the structure and composition change obviously, and it has the characteristics of high temperature resistance, non-combustibility, good thermal stability and hydrothermal stability.